Who We Are
We're creating a thriving economy
Through sustainable economic development, we encourage the economic, social, and environmental well-being of local residents. It's our purpose.
Sḵwx̱wú7mesh Nation
The District of Squamish is located within the Squamish Nation Territory. Ha7lh en sḵwálwen Kwis tl'iḵnúmut tl'a Sḵwx̱wú7mesh Úxwumixw.
We are grateful to live, work and play on these beautiful and diverse lands, which are the ancestral and unceded territory of the Sḵwx̱wú7mesh People. The Squamish Nation contributes to the richness of our community and the businesses within it. Squamish Nation and the District of Squamish recognize that the interests of all persons living in our communities are best served by working together and building an effective government-to-government relationship.
Sḵwx̱wú7mesh Úxwumixw (Squamish Nation) members are descendants of the Coast Salish Aboriginal people who have lived in this area since before recorded time.
The District of Squamish
The District of Squamish is a service-driven municipal government whose daily mission is to meet the needs of its residents to ensure a safe, highly functioning, and livable community. Learn more about the District's services by visiting squamish.ca. The District is governed by six Councillors and one Mayor who are elected for a four year term. You can learn more about the current Council on squamish.ca.
Our strategy and work plan
The District of Squamish's Economic Development team provides business intelligence to help inform the decision-making process in support of the local business community and future sector development. We manage and conduct research and provide economic development expertise to internal staff and external stakeholders. Our research work informs policy development, investment and business decisions.
Our focus? Encouraging strategic investments and new firm development in priority sectors of our economy to generate new employment and economic resiliency locally.
We use our research knowledge and economic development expertise to facilitate programming and partnerships that are aimed at supporting local sectors of our economy. We are the Squamish Economic Development team.
Economic Action Plan 2020-2022
Supporting our strategic direction
To support strategic decision making and help shape our actions, the District of Squamish has formed an Economic Leadership Team, comprised of members with local expertise and passion in economic development-related fields.
The Economic Leadership Team provides advice and expertise on Economic Development strategy in Squamish, in line with Council's Strategic Plan, stimulating diverse Squamish-based job growth for social and economic gain.
A new Economic Partner Forum has also been formed by the District of Squamish. This group provides a collaborative framework to share expertise, knowledge and resources in an effort to fulfill on economic development strategies, plans and actions, in line with the District's Strategic Plan goals.
Our feedback loop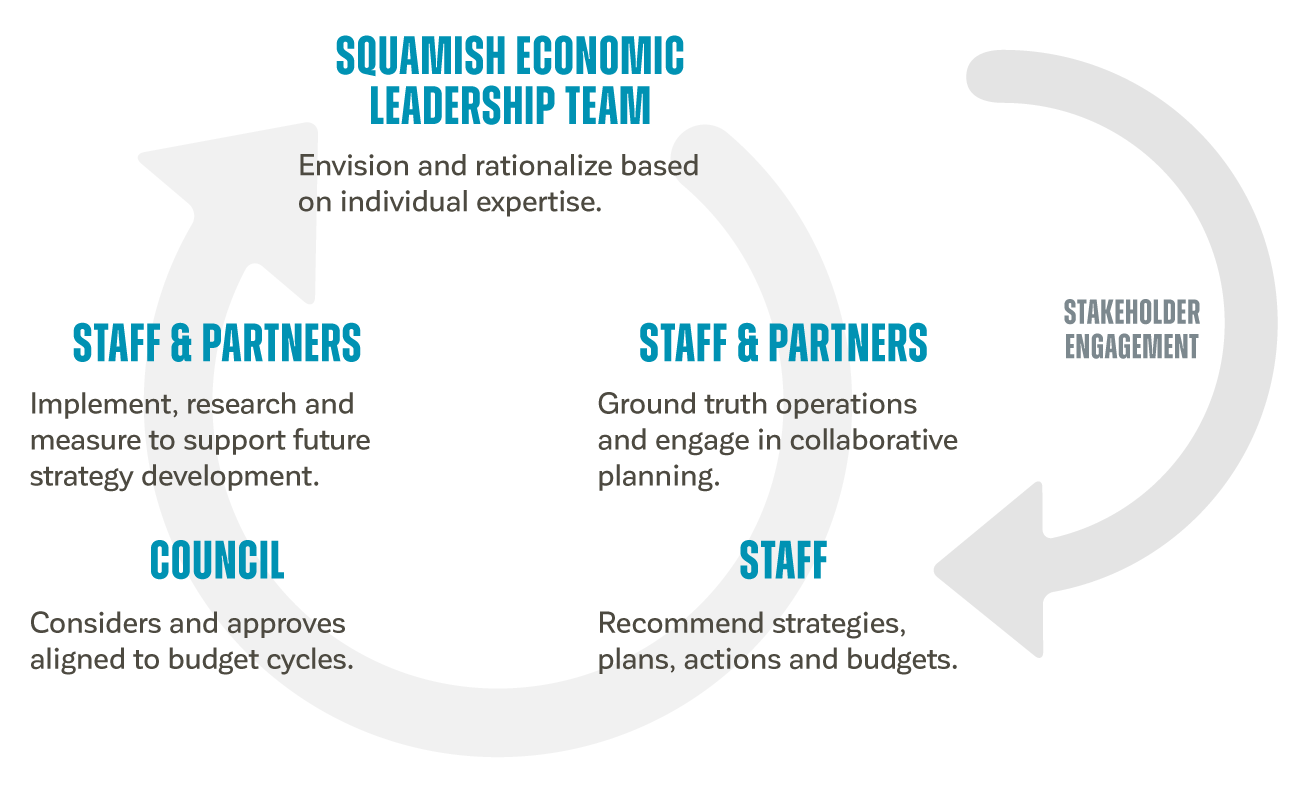 Reporting on our performance
The District of Squamish's 2040 Official Community Plan is guided by five core goals, resilience, livability, health, connectedness, and engagement. These goals plus Community Climate Action Plan goals represent community ambitions and build upon the social, economic, and environmental sustainability of Squamish. In order to track performance against these goals, the Squamish Community Performance Indicators Dashboard tracks the community's progress, demonstrating historical data and providing other relevant information where available.
To ensure that Economic Development is tracking progress we have developed a community dashboard that assesses economic health across three pillars, People, Business, and Place.
Squamish Community Performance Dashboard
The Squamish Community Performance Dashboard is updated annually in July to align with the release of the District's Annual Report.
Kate Mulligan
Economic Development Officer
Since joining the District in 2017, Kate has led the District's Economic Development strategy working alongside stakeholders in government, the private sector, and not-for-profit community. Supported by a dedicated team of professionals, Kate has worked to elevate emerging areas of the Squamish economy, including the green economy and outdoor recreation technology sectors.
Jen Stone
Economic Development Specialist
Jennifer has worked with the department since early 2021, leading communications efforts and assisting local entrepreneurs in the creative industries and adventure-based media and film, and sustainable tourism sectors. Jen also leads several special projects for the department, most recently Squamish's Circular Economy Roadmap.
Gaby Barnes
Economic Development Specialist
Gaby, who recently joined the Economic Development team, is leading the agri-food sector projects and formulating a Squamish labour force plan, utilizing a circular economy and donut economic framework. With a Master of Education in Sustainability, her academic focus centered on exploring the most effective practices in Civic Engagement for Climate Action.
Grace MacLeod
Business Development Specialist
Grace has recently joined the Economic Development team to lead Squamish's Trade and Investment program. With a Bachelor of Commerce degree, a nearly completed Master's of Business Administration in Leadership and Sustainability, and a breadth of local business and economic development experience, Grace will forge relationships to fill supply chain gaps and attract foreign direct investment to Squamish.