Why Squamish
A Thriving Business Community
You can find us at the intersection where ocean meets mountain. Where a vibrant business community goes hand in hand with an outdoor lifestyle and that special small-town feel.
We're entrepreneurial and focused on sustainable growth. Our vision is centered around a flourishing economy that betters the lives of our people and the environment around us. And we're ready to do business with you.
Join the many who have already chosen our community as the home base for their business operations. It's not just a business community – it's a group of like-minded people who know that Squamish is hardwired both for adventure and business.
Here's why.
1 Adventure Lifestyle
Squamish statistics about the unparalleled lifestyle.
Outdoor enthusiasts and Squamish are made for each other. Travel along the Sea to Sky Highway in the southwest corner of BC, and you'll find us. Squamish is located in the traditional core territory of the Musqueam, Squamish, and Tsleil-Waututh Nations. It's a thriving community with a small-town vibe that has all the conveniences of a big city.
2 International Access
In Squamish, the entire world is at your fingertips with the ability to connect to a global network by rail, port, air, and highway or via our extensive fibre optics. Meet your international clients with ease with both Vancouver and Whistler only 45 minutes away in opposite directions.
3 Thriving Economy
Diverse sectors and a thriving economy are at the centre of our business community. We have clean technology, apparel design, beverage manufacturing, sustainable tourism. And so, so much more.
4 Knowledgeable Workforce
A powerful and fast-growing workforce with momentum you can feel in the community. From up-and-comers to seasoned professionals, the Squamish workforce is highly educated and choosing life in Squamish for its spectacular outdoor environment and lifestyle.
5 Business Climate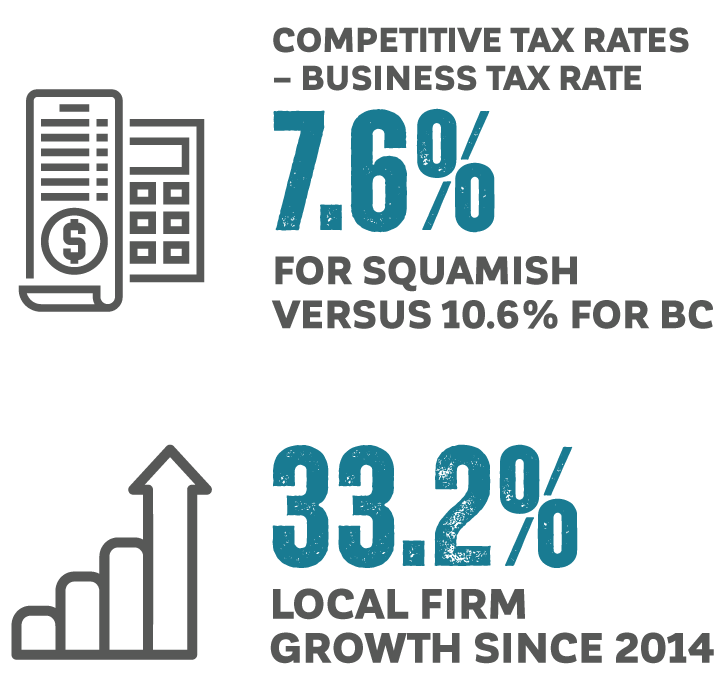 Dive in, the temperature is just right. It's the perfect combination – a growing population and thriving business community. Combined, they make Squamish the perfect place for you and your business.
We're here to help.
Get in touch with us for any questions about starting, growing, or investing in Squamish today.