Sustainable Tourism
Foundational, dynamic, and adventurous
A foundational industry that's hardwired for adventure, sustainable tourism and hospitality has a rich history in Squamish.
Squamish is a versatile destination in a prime location that offers experiences and attractions for a wide range of visitors. Situated at the very tip of the Howe Sound fjord and less than an hour drive away from each Whistler and Vancouver, Squamish attracts with its beautiful landscape, ideal location, wide variety of activities, and stunning vistas. This essential sector is not only attractive for visitors, but also holds great potential for business owners.
The tourism and hospitality industry has been evolving tremendously over the past ten years and is home to hundreds of entrepreneurs and small and medium-sized enterprises. Business owners in the Squamish tourism and hospitality scene are driven, innovative, resilient, and dedicated to sharing the beauty of this unique destination with visitors and locals.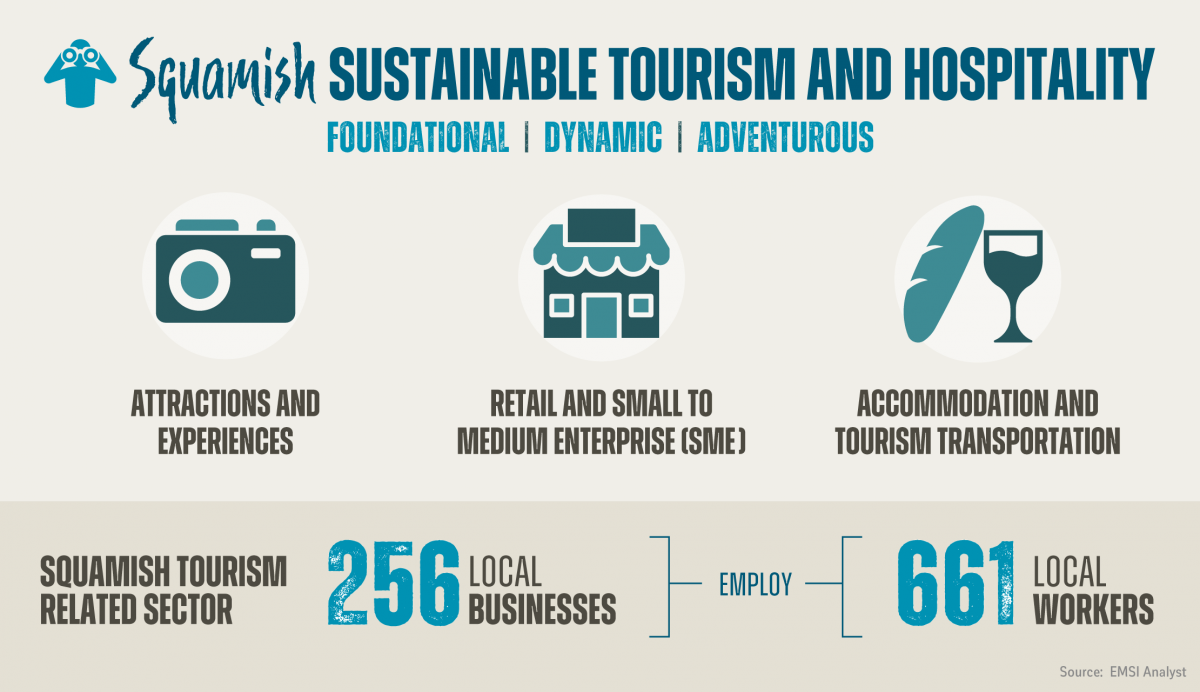 Squamish has flourished into a prime tourist destination that offers great opportunity for expansion and development. The well-rounded accommodation industry, versatile retail scene, variety in attractions and experiences, and solid tourist transportation concept are all complementary key components of this thriving sector. Business owners profit from an already well-established industry and the strong Squamish brand, beneficial location, and collaboration opportunities within this sector.
The economic importance of Squamish's tourism sector is undeniable
It has been a foundational sector fundamental to our growth over the years. Behind these numbers are successful business owners along with adventurers from near and far who've discovered all that Squamish has to offer.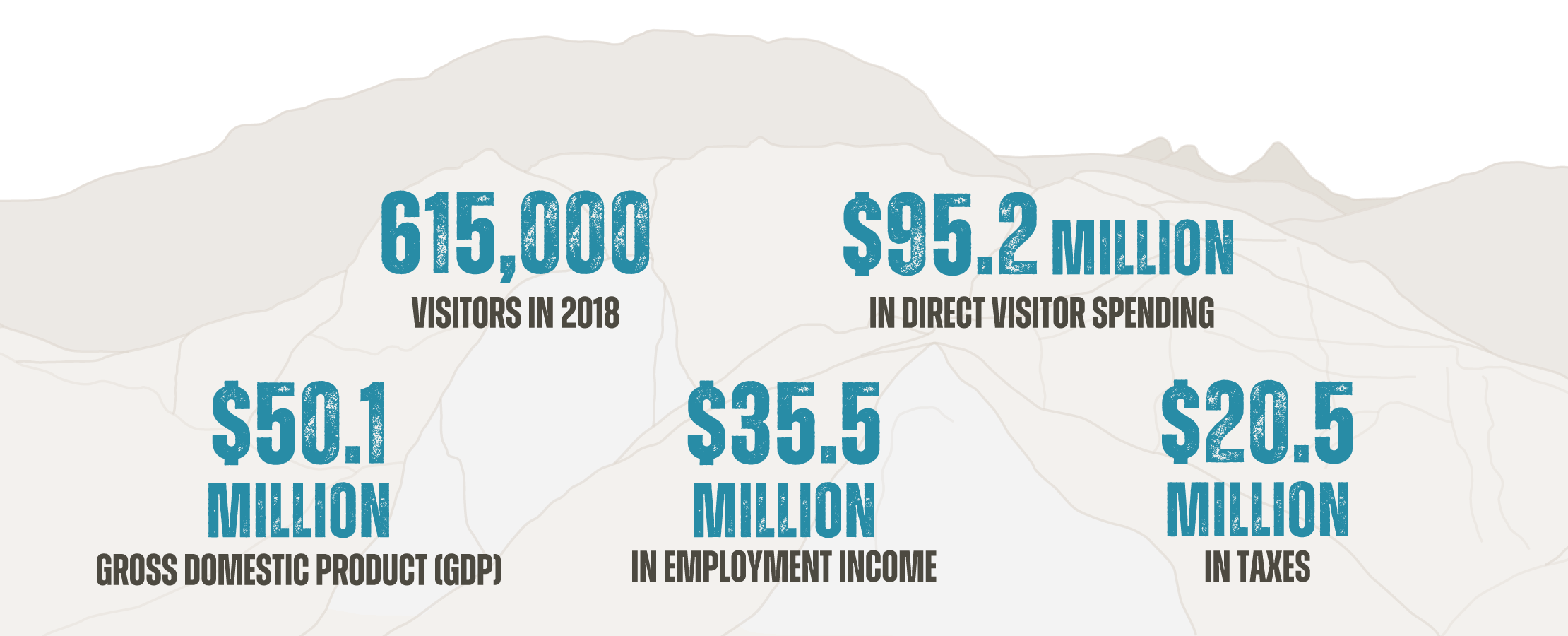 Squamish sustainable tourism evolution
Squamish's worldwide reputation as a prime destination stems from a healthy economy, new tourism infrastructure (highway and hotel accommodation) afforded from the 2010 Vancouver Olympics, the 2014 opening of the Sea to Sky Gondola and marketing efforts from Destination BC as well as Tourism Squamish through increasing Municipal and Regional District Tax (MRDT) revenues.
The 2010 Winter Olympic Games in Vancouver and Whistler brought global attention to the town of Squamish, which utilized the then recently completed Squamish Adventure Centre as a welcome hub. In anticipation of the Olympics, the destination marketing organization Tourism Squamish was formed in 2009, which has taken the lead in promoting Squamish ever since.
With consistently growing visitor numbers and a constant influx in new residents, Squamish has become a desirable destination with now more than 250 tourism businesses and over 660 local jobs supported by the tourism industry.
A priority sector for the region
A 2020 Tourism Impact Study found that opportunities exist for ongoing sector development including new tourism accommodation to meet growing demand, development of non-peak visitation products and marketing efforts, and development of the Meetings, Incentives, Conferences, and Exhibitions (MICE) market. Supported by provincial and federal programs, the Squamish tourism industry is an economic priority and significant economic sector.
Regional goals for the tourism industry include extending the length of stay, increasing year-round visitation, strengthening social license and resident support for tourism, and enhancing tourism infrastructure and amenities. Strong and effective destination stewardship will support the goals of providing excellent visitor service and fostering remarkable visitor experiences.
BC tourism and hospitality
With more than 161,000 British Columbians employed in the industry and 19,000 tourism businesses, the BC tourism and hospitality industry represents a significant part of BC's economy. In 2018, the rapidly growing industry contributed more to the Gross Domestic Product (GDP) than any other primary resource industry in the province. While the COVID-19 Pandemic has certainly affected the tourism and hospitality industry in British Columbia, it is recovering and set for success.
Current industry goals include becoming the most highly recommended destination in North America, growing sustainable social, cultural, environmental, and economic benefits for all British Columbians, and increasing visitation and tourism revenues in more areas in BC year-round.
The support of the local residents for tourism and hospitality is a meaningful indicator for the industry. 94% of BC residents believe that the tourism industry plays an important role in the economic well-being of British Columbia and 82% think that tourism supports a greater diversity of amenities in their community. Tourism is significant for BC communities with most tourism businesses being locally owned small and medium-sized enterprises that directly contribute to the local economy.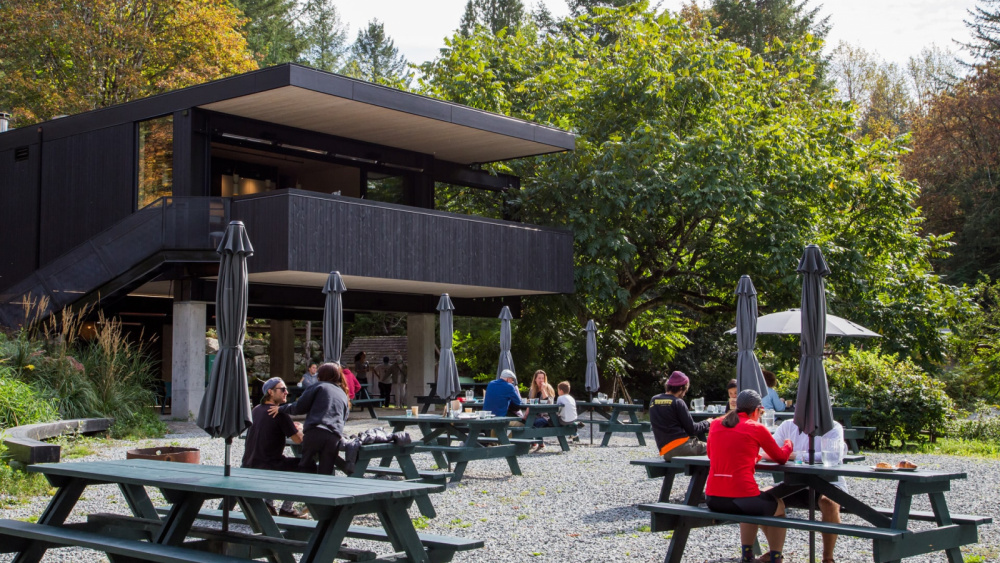 A sustainable tourism success story - Fergie's Café
Fergie's Café, owned and operated since 2010 by husband-and-wife team Jake and Jess Freese, has been a popular brunch spot in the Sea to Sky for years.
Located within Sunwolf Riverside Resort's 5.5-acre property at the confluence of the Cheakamus and Cheekye Rivers, the serene setting is one of the many aspects unique to Fergie's.
Sector Contacts
Squamish Chamber Of Commerce

The Squamish Chamber is a member-based organization that serves its members by advocating on behalf of the local business community, providing programming and services including training and events, special discounts, and marketing and promotional opportunities. Find out more by visiting the Chamber's website.
Tourism Squamish focuses on evolving local businesses through the creation of destination marketing campaigns, improving the visitor experience, and destination development.
Destination BC is a provincially-funded, industry-led Crown corporation that supports a strong and competitive future for BC's tourism industry through a combination of global marketing, destination development, industry learning, cooperative community-based programs, and visitor servicing. Destination BC's programs help to improve the visitor experience, support businesses, and communities across the province, and strengthen BC's worldwide reputation as a destination of choice.

Downtown Squamish Business Improvement Association (DBIA)
Squamish's DBIA diversifies the downtown economy by attracting new businesses and people to the downtown core. In short, we want to help bring more awareness and foot traffic to our downtown businesses. The DSBIA collectively promotes and supports downtown businesses through communications, marketing campaigns, and hosting events that bring people together and into our merchant's businesses.
Tourism tools and resources
Looking for more information on the tourism economy? Look no further. Squamish has wealth of research, information, and tools to help you start, grow or invest in BC's tourism economy. Check out a sample below.
We're here to help.
Get in touch with us for any questions about starting, growing, or investing in Squamish today.