Clean Technology and Environmental Services
Clean, renewable and efficient
Renewable energy. Clean transportation. Responsible waste treatment. Efficient technology with rich computer systems and tracking. Squamish's clean technology and environmental services sector is diverse and growing.
Squamish is a clean tech hub
With world-class, leading-edge, clean technology and environmental service companies and a workforce that over-indexes in complimentary education and training, Squamish is a developing hub for clean technology and environmental services.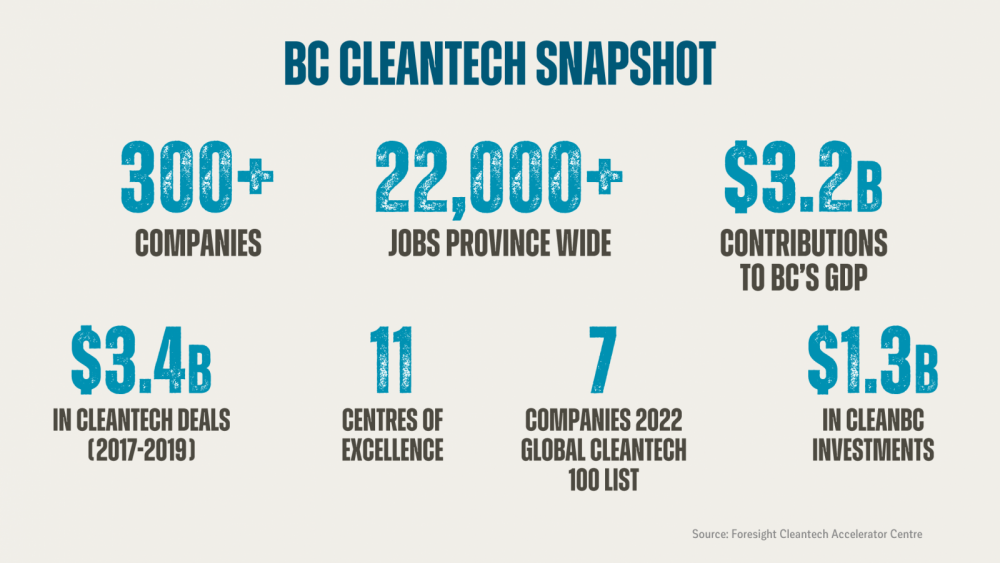 BC leads Canada's growth
With the highest growth rates in Canada, BC's clean technology sector generated an estimated $3.5 billion in revenue in 2020. BC is fueling this growth with:
green, low-cost power, with 98% generated from renewable resources;
expert researchers and state-of-the-art research infrastructure with 11 green centres of excellence focused on research, innovation and training; and
supportive policy with green tax incentives and funding.
Learn more about how BC is supporting the cleantech and environmental services sector at Trade and Invest BC.
Canada is 2nd in global cleantech innovation
With 1000+ cleantech companies, Canadians are focused on being world leaders in developing solutions to address our climate challenge. In 2022, Canada ranked 2nd on the Global Cleantech Innovation Index with 13 companies listed as part of the Global Cleantech Top 100.
In 2019, Canada's cleantech Industry accounted for 3% of Canada's GDP, 341K Jobs, and thousands of new innovations. With 65 announcements between 2016-2020 alone, Canada is investing in cleantech and offering supportive policy, incentives, and funding to propel Canada's cleantech sector.
Learn more about Canada's cleantech economy by visiting Invest in Canada.
Success story in Clean Technologies - Quantum Technology
Innovation is at the heart of Quantum Technology, a manufacturer and producer of helium gas and helium refining plants. For 40 years, they have developed and designed different styles of purification, liquification, or gas processing systems. Never shy to face a challenge, they look at problem solving as an opportunity to innovate their own systems and designs.
Clean Tech tools and resource library
Looking for more information on the clean tech and environmental services sector? Look no further. Squamish has wealth of research, information, and tools to help you start, grow or invest in BC. Check out a sample below.
Sector contacts
District of Squamish Economic Development Team
As your point of contact within the District of Squamish, we can connect you to the municipal departments that will help to start and grow your business. Contact us for support with zoning information or site selection, and we can connect you to the appropriate staff member from Community Planning, Building, Real Estate Services, and/or Engineering. Several members of our staff are experienced with the specific regulations for your industry and can help guide you through site selection. We can also provide you with resources to help you start or grow your business, including market research, business intelligence, recommendations for key contacts, and ideas for funding.
BC Sustainable Energy Association
The BC Sustainable Energy Association (BCSEA) is a volunteer-based, charity that supports the sustainable production, distribution, and consumption of energy in British Columbia and beyond. Become a member to receive streamlined updates, information, and advice for sustainable energy matters, profit from leadership training, and webinars.
BC Bioenergy Network
Established in 2008 the BC Bioenergy Network invests in capital and technology development to increase capacity, as well as provide education and advocacy. These efforts promote the utilization of BC's biomass resources toward alternative energy; specifically using agricultural and forestry waste streams to produce value-added products and energy.
Canadian Hydrogen and Fuel Cell Association
The Canadian Hydrogen and Fuel Cell Association (CHFCA) is a national, non-profit sector association comprising industry, academia, research agencies and other stakeholders focused on advancing the use of clean hydrogen and fuel cell technologies and products to help tackle the world's most critical energy challenges.
BC Tech Association
The BC Tech Association provides programs for scaling tech companies, and advocates for the industry so that tech companies may collaborate, learn and grow.
Trade and Invest BC
Trade and Invest BC recognize clean technology as a key sector in BC. Trade and Invest BC help organizations and investors find success doing business in British Columbia by facilitating foreign direct investment, helping to build connections between companies, and promoting BC products and services globally.
Invest in Canada: Cleantech in Canada
Invest in Canada is Canada's global investment attraction and promotion agency. Facilitating global investment that spurs job growth and makes Canada stronger. Invest in Canada's customized services help global companies unlock investment opportunities in Canada.
Visit our other green economy sector pages to learn more about how you can become part of our vibrant green economy in Squamish.